The Adoption Trip
The Return Trip
24th
25th
26th
27th
28th
29th
30th
31st
1st
2nd
3rd
4th
5th

Friday, November 5th, 2002

Beijing, Cloudy - Max: 11, Min: -3, Avg: 4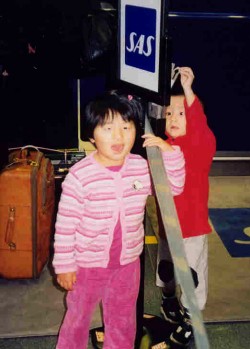 We had plenty of time in the morning - we had a relaxing breakfast, packed our last things and were ready to leave the hotel at . We arrived at the airport at about
We had to get through passport control, as did 1000's of others. No real queue structure had been formed. It took over 45 minutes, with everybody squashed together like a tin of sardines, just trying to reach the promised land of passport control. We were hot, sweating and tired. Then it took another 15 minutes to get through security. By the time we are through there was only 15 minutes to take off, and 'Boarding' was already flashing next to SK996 to Copenhagen.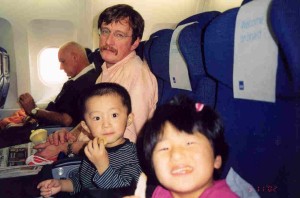 We ran to the gate, without any time to use the last of our Chinese money - that we aren't allowed to take out of the country. At the gate, it turned out that we needed to stand in more queues, as we are to be bussed to the aircraft. By the time we are settled into our seat, we all needed a shower.
Steven really felt like he looked in the picture below!
Of course take-off is delayed – as we miss the infamous slot time due to late arriving passengers (surprise, surprise), and sit and wait for over an hour. For Daji, the novelty of flying had already worn off, and he started messing with everything, becoming more and more loud and more and more difficult. When we finally did take off, they served the food fairly quickly and Daji was quiet again. Only eight hours to go, and he's showing no signs of sleeping. "Stuart Little" to the rescue.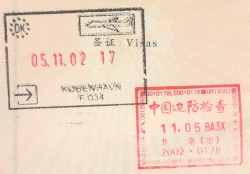 Daji started to watch the film about a mouse that can talk and lives with 'real' people: Stuart Little 2. He saw it 4 times through the duration of the flight, and was equally occupied with it each time. SAS served the adoptive parents a glass of champagne – a nice touch (and probably thanks to the fact that Dorthe's brother was one of the flight attendants). Daji slept an hour during the flight and only screamed the few minutes Steven visited the toilet. We survived.
We made our final farewells to the other families and children; went through passport control – no queues – collected our luggage – it's all there; and out to meet Thomas and Lene's brother, who had just arrived to take us home.
Finally we're home!