Sunday,

April

9

th

2006

Beijing, Mostly Cloudy – Max: 14; Min: 6; Avg: 10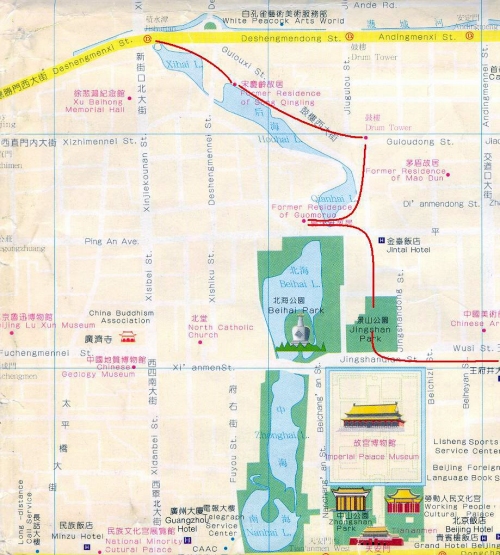 Today was lake and garden day. Still no hot water, so yet another coldish bath. After breakfast we took a taxi north-west to Jishuitan on the outer ring road and started to walk along the lakes, where in olden times only families with close relationships to the imperial families were allowed to live.
There weren't a lot of people out and about, which surprised us. We'd imagined that this would have been a great place for Beijing's residents to get away and take a walk. The lake was peaceful - apart from an Englishman trying to teach a boat full of fellow citizens (?) how to row!
We visited the "Former Residence of Soong Chi-ling". Wife of Sun Yat-sen (founder of the Kuomintang) and first provisional president when the Republic of China was created in 1912. Despite being a Nationalist, Sun was a uniting figure and is therefore widely revered both in mainland China and Taiwan. After his death in 1925, Soon Chi-ling displayed some sympathy for the communists, whilst her sister, who married Chiang Kai-shek fled to Taiwan. Mao rewarded her with this house where she lived from 1963 until her death in 1992. Two weeks before her death, she was admitted to the Communist Party and was named Honorary President of the People's Republic of China. Her house is set in beautiful garden. The residence was originally the imperial garden of the father of Pu Yi, the last emperor of the Quing dynasty. The garden was just beginning to bloom, a couple of weeks later and the garden would have been even more spectacular.
We continued along the lake, stopping at yet another exercise ground and watching a couple of people taking a dip in the lake. We headed towards the Drum Tower, originally built in 1273 to mark the centre of the Mongol capital of Dadu, it has been repeatedly built and rebuilt. In earlier times, the drums were beaten to mark the hours of the day, nowadays they are beaten every half and hour, for the tourists. However the drum beating performance was well worth the steep 69 step climb to the top, as were the tremendous views of the old hutongs.
After spending a few minutes watching the police, passengers and drivers sort out an accident between a bus and a car - which led to a massive queue of cars - we headed west through a maze of hutongs (I'm sure we went round in circles) and eventually followed the crowds to Prince Gongs Residence. We should have taken one of the many rickshaws that were round about.
Prince Gong is famous for negotiating with the British during the second opium war, where on the brink of defeat he negotiated to transfer large sums of silver and part of Kowloon to British Hong Kong in exchange for leaving Beijing in tact and supporting Qing against the Taiping Rebellion.

The gardens are supposedly one of Beijing's most spectacular with a combination of rockeries, pavilions, water and corridors, "perfectly arranged" to make it seem larger than it actually is. There are evidently thousands of brightly coloured carp in the pond and an opera house in the grounds. It's probably well worth a visit and listed amongst the 20 things to see in all the books I've read - but don't go on a Sunday.
We wandered around and wondered why there were so many people both in the garden but also on the streets outside - many selling a particular red book and certain pictures. I'm sure it is spectacular, but whilst only a few Chinese took the walk around the lake, they certainly took the trip here. There were so many people everywhere, it was was impossible, for us at least, to appreciate it's splendour.

Away from the crowds, we headed south and stopped to buy an ice cream and sat down to enjoy it. Our peace was short lived as a group of young people stopped up and asked whether they could take their picture together with us - we dully obliged. We headed towards the Behai Park and the last lake we wanted to walk around. You have to pay to enter Chinese parks, something we only realised later in the day, so walked past the entrance, thinking that it was for something else. We headed south through more Hutongs and ended up in Jingshan Park (or Coal Hill park as it is also known).
| | | |
| --- | --- | --- |
| | | |
The park has some great views over the Forbidden City and beyond from a hill built out of the earth excavated to construct the moat around the Forbidden City. However you couldn't get to the top of the hill due to renovations (again), so the views were limited - the weather was also hazy, so the view wouldn't have been great anyway.
We left the park from the gate opposite the Forbidden City and walked back towards our hotel. We stopped at a baker on the way and bought some small cakes - Yanmei and Daji got a handful for free. We passed the hotel we would be moving into the next day. We got back to the hotel tired, after a long day. I daren't think how long we'd walked, somewhere between 10 and 15km's I would imagine, but neither Daji (who can hardly walk 250m without being tired in Denmark) nor Yanmei had complained once. There is so much happening, so many people around and so many new impressions, there's no time to think about being tired.
After a couple of hours rest, we were all feeling hungry - we'd skipped lunch. We decided to be adventurous and try a local Chinese restaurant. The one we finally choose was half-full with Chinese families so we went in and hoped they had an English menu. They had a picture menu which we managed to select four dishes and rice and noodles, plenty for us. The food was excellent and the bill totalled 132 yuan and we were "ordered" to take the rest of the large bottle of Fanta home with us!
The evening was pleasant and even though it was Sunday evening, many of the shops were still open. Yanmei bought some things for her hair whilst Lene bought a cardigan and jacket in modern, but traditional, Chinese style.